Pasha (Turkish: General) is a title in Turkiye Stratocracy.
Overview
Edit
Pasha is the highest class of people in Turkiye Stratocracy, that entrusted with the role of leading the country. A council of Pasha only has 100 people, showing that it's an extremely prestigious title.
A pasha usually served at one of the government bureau's head periodically, making them vital for the country's prosperity. A pasha also has the right to command a full legion of their own, being the highest military rank in Turkiye's army.
Three times a week, all pashas are required to be present at Kubbe Altu to carry out a discussion regarding the country's welfare, forming a council named Diwan.
Hierarchy
Edit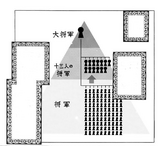 Between the 100 pasha, there are 13 people that's called vizier (Turkish: minister), that given responsibility to govern one of the 13 provinces of Turkiye Stratocracy.
At the top of the pyramid, there's Buyuk Pasha (Turkish: Great General) that becomes the head of the state.
Recruitment
Edit
All pashas are recruited from military ranks, since pasha is essentially a military rank. Each time a seat in the Diwan is empty, a prospective candidate is recruited from military ranks, since the Diwan should consists of 100 pashas, no more, no less.
When a vizier's seat is empty, the pasha that fills the position should have experience in minimum 20 of the 34 bureaus before he can qualify.
Known Pashas
Edit
Sehir Halil (Former Vizier of 7.Eyalet)
Tughril Mahmut (Beylerbey(equal to rank of Vizier) of Chielo Eyalet)
Zehir Zaganos (Vizier of 1.Eyalet)
Kurt Kurt (Pasha from 8.Eyalet Current 2.Idare of Chielo Eyalet)
Burak (Buyuk Pasha;leader of Turkiye Stratocracy)
Tesisat-Kapi Saruca (Vizier of 3.Eyalet)
Mimar Zeki (Insaat Baskan of Chielo Eyalet)
Şanslar Nurzan (2.Idare of Chielo Eyalet)
Deve İlkay (2. Idare of 1.Eyalet)
Atnal Cemil (2.İdare of 1.Eyalet)
Murat
Ozan Tuncer(2. Idare of 7.Eyalet)
Tazı Doruk(Current 2. Idare of 11.Eyalet)
Makas Ümit (2.Idare of 6. Eyalet)
Kadir (Former 2. Idare of 11.Eyalet )
Pota Jırgal ( Current Vizier of 7.Eyalet)
The Pasha title is based on the real-life Ottoman title Pasha.
However there are several differences in regards to authority power: Buyuk Pasha having highest power compared to a Sultan.
Community content is available under
CC-BY-SA
unless otherwise noted.