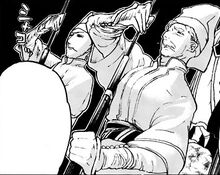 Harro there folks, Who is ever reading these profile (strange very strange indeed....jk \[T]/) I am an frequent editor involving in infobox and other templates (Which can be seen in the home page) although I to edit regular pages filling in missing gaps (Too afraid of posting a new page due to bad well not half bake, just about 6% bad in punctuation but thou shall improve nevertheless).
Lastly I am a huge fan of Shoukoku no Altair, started of as a regular reader until progress through the story and I got to say, The plot particularly for the characters interesting character developements (Yes talking to you Tughril Mahmut, being an naive silly boyo although not anymore..You have gained Gandalf's Wisdom).
Wait....Why am I writing weired post prior to writing everything in my mind....lel.
My favorite pages
Edit
Crossdressing Tughril best Girl............. *Wink* ;)
The memes I created
Edit
Most Favorite Chapters
Edit
Community content is available under
CC-BY-SA
unless otherwise noted.